One Love: Music for Manchester
Earlier this evening, more than 50,00 people in attendance came together at Manchester's Old Trafford cricket ground in a celebration of music and love.
On May 21, 22 innocent people lost their lives in a terror attack outside of Ariana Grande's Dangerous Woman concert at Manchester Arena.  Today, exactly 2 years to the day after Ariana had her first ever concert in Manchester, she took to the stage, along with many other stars, as part of One Love Manchester, a benefit concert to raise money for those and their families who were hurt or killed by the recent Manchester bombing.
Marcus Mumford kicked off the event with a moment of silence honoring those who have been killed in recent terror attacks in Manchester, London, and around the world.  He then launched into an acoustic version of the Mumford & Sons song "Timshel", whose lyrics reflected a theme of the night:
"And death is at your doorstep
And it will steal your innocence
But it will not steal your substance
But you are not alone in this"
Following his performance, a band of Manchester's very own, Take That took the stage to perform some of their hits, including "Giant," and "Rule the World".
After "Rule the World" Robbie Williams, wearing a Purpose World Tour sweatshirt, joined his former bandmates onstage for a round of applause before launching into his own set.  Williams started his set with his song "Strong", but he changed the lyrics in tribute to Manchester.
"Manchester we're strong, we're strong, we're strong, we're still singing our songs, our songs'," he sang.  Williams then gave a heartbreaking performance of "Angels", his most famous song, a song made even more emotional as it was juxtaposed among signs that read "FOR OUR ANGELS".
Next, Pharrell brought the mood up as he encouraged the crowd by saying, "Manchester, let the world hear your resilience."
He began with his song "Get Lucky" before welcoming Miley Cyrus to the stage to accompany on his hit song "Happy".  Cyrus remained on stage after to sing her song "Inspired".
Niall Horan kept things mellow as he sang "Slow Hands" to the crowd.  In a fitting manner, he went to dedicate his second song, "This Town", to Manchester.
Scooter Braun came out with two of the show's producers to thank everyone for coming out and to honor the people of Manchester who have been so strong the last few weeks.
"Hatred will never win, fear will never divide us, because, on this day, we all stood with Manchester," Braun remarked before welcoming Ariana Grande to the stage.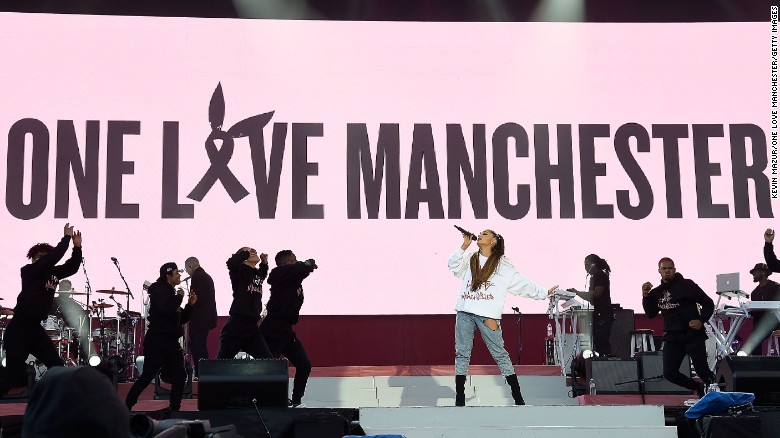 As the first few notes of Grande's"Be Alright" played, Ariana and her dancers graced the stage all wearing One Love Manchester sweatshirts.  She followed her first song with "Break Free" and appeared to get slightly emotional as she changed some of the pronouns in the lyrics of her song to "we're stronger than we've been before", making the song even more powerful for her fans.
Grande's first performance of the night was followed by a video message from Stevie Wonder.  "Love really is the way," he said to the crowd before singing a snippet of his song "Love's in Need of Love Today".
Little Mix were the night's next performers with their song "Wings" and were followed by Victoria Monet, their fellow opening act for the North American leg of the Dangerous Woman Tour earlier this year."
Victoria Monet was joined by Ariana Grande for a duet of their song"Better Days".  The song was released by the two women a year ago in response to the shootings of Alton Sterling and Philando Castille.  When it came out, Monet and Grande said, "Music is a universal language that all of us can feel regardless of color lines, gender, sexuality, age, race, religion…. it unifies us. We believe we can not fight hate with hate, only love. Just as we can not fight darkness with more darkness. Only Light."  The tragedy that the two were honoring tonight may have been different, but these words still ring true and were almost equivalent to the message of the night.
The Black Eyed Peas then joined Ariana Grande onstage for a very moving performance of "Where Is The Love" as the words 'one love' and 'pick love' were repeated a number of times.  The crowd seemed to come together even more during the performance as they put up one finger for one love and made hearts with their hands.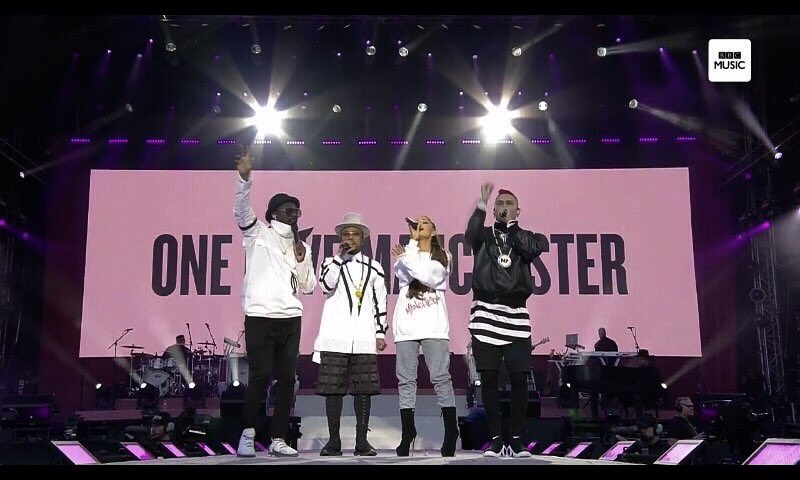 Grande left the stage for a couple minutes for Imogen Heap to perform her song, "Hide and Seek," and for David Beckham to offer his condolences and support to the people of Manchester in a video message.
Parrs Wood High School choir then came out on stage to sing "My Everything".  The local school group were invited to perform at the concert after a video of them singing the song went viral as they attempted to raise money for the victims of the Manchester Arena attack.  Ariana Grande came out to sing with the group and was brought to tears by one of the students next to her who had begun to tear up next to her.  The heartbreaking moment resonated with every watching, as there was not a dry eye left from those watching in the crowd and at home.
A beautiful moment as @ArianaGrande sings "You Are My Everything" with a youth choir. ? Can't stop crying. #OneLoveManchester pic.twitter.com/YdqKUOWtzt

— iHeartRadio (@iHeartRadio) June 4, 2017
After an emotional moment like that, Grande was lucky to have Mac Miller come out to join her next for their two song's "The Way" and "Dang!"  After just a few seconds, Miller was able to help Grande pick her spirits up and the two were playful throughout both songs.
Mac Miller switched places with Miley Cyrus who came out to sing"Don't Dream It's Over" with Grande, a song they've previously performed together two years ago to raise money for Cyrus's Happy Hippie Foundation.
After Cyrus left the stage, Ariana revealed that she had met Olivia Campbells' mom the other day.  Olivia was one of the victims in the Manchester bombing, but her mother explained to Ariana that Olivia wouldn't have wanted to see her crying.
"Olivia would have wanted to hear the hits," Grande said when speaking about what Olivia's mom had told her.  She informed those watching that the show they were seeing was a huge transformation and completely different show from the show that had been planned yesterday.
So, Ariana sang her hit song "Side to Side" before Katy Perry sang two of hers – "Part of Me" and "Roar".
After Perry left the stage, there was a short break and the crowd broke out into a spontaneous Manchester chant.  As the chant began to die down, Justin Bieber came out.
"Would you agree that love always wins?" Bieber asked the crowd before he launched into a stripped-down version of "Love Yourself" with just his voice and his guitar.  As the song finished, Bieber lead the crowd in a unified chant of "LOVE".
"Love always wins in the end," he said, following it with his song,"Cold Water."
We are with you @justinbieber. Feel the love. ❤️ #OneLoveManchester pic.twitter.com/wUhdhHkwio

— iHeartRadio (@iHeartRadio) June 4, 2017
"We're not going to let go of hope, not going to let go of love," he said before he left the stage.  "Take a moment to honor the people who were lost or who were taken," he asked the crowd as tears formed in his eyes.  The emotion was apparent in his voice when he said, "We love you so much.  To the families – we love you so much," as he exited the stage.  Bieber's act of vulnerability symbolized the heartbreaking toll this terrorist attack took on so many people of this world, but also reminded us that there is incredible strength in showing vulnerability.
Ariana Grande followed Justin Bieber as she sang her song, "Love Me Harder".  When the song finished, she said, "I'll be right back with a little surprise for you all."
As Grande prepped her surprise, a video played with Halsey, Bastille, Demi Lovato, Jeniffer Hudson, Chance the Rapper, Camilla Cabello, The Chainsmokers, DJ Khaled, Little Mix, Kendall Jenner, Clean Bandit, Dua Lipa, Sean Paul, Nick Grimshaw, Kings of Leon, Sam Smith, Rita Ora, Shawn Mendes, Twenty One Pilots, and Paul McCartney all pledging their support and saying that they stand with Manchester.
Following the video, Coldplay came out on stage and Chris Martin sang alongside Ariana Grande as they covered the song, "Don't Look Back in Anger", which Martin dedicated to Grande in honor of her organizing the concert. Coldplay then performed their songs "Fix You", "Viva la Vida" and "Something Just Like This" before Liam Gallagher came out for a surprise performance.    Gallagher sang his own "Wall of Glass" along withOasis' "Rock and Roll Star" and  "Live Forever", which he was accompanied by Chris Martin.
As the show began to come to a close Ariana Grande brought out all of the performers to thank them for participating in the concert that night.  She became choked up as she started to sing "One Last Time", her song that was played at some of the funerals of those who died in Manchester and which she re-released last week to raise money for the people of Manchester.
Grande closed the night on her own with a beautiful and soulful performance of "Somewhere Over the Rainbow".  She thanked the crowd and the people of Manchester as she left the stage in tears.  Alongside the overwhelming, I hope that Ariana Grande felt proud for her efforts unified people in the wake of tragedy as she put together a celebration of love.
-Roxy R. (@roxyrappaport)
Feature Image by Lesie Crow