Too Good to be a Dream: Timeflies Drops New Single and Announces Tour
After pinching myself hard enough that it left a bruise, I've come to the conclusion that even though it feels like its too good to be true, I wasn't dreaming when I saw that last week Timeflies not only announced their upcoming tour, they also released their new single!
On Tuesday, May 9th, Timeflies announced their Too Much to Dream Tour.  Then, on Friday, just hours before tickets for their tour went on sale, Cal and Rez, the music duo that makes up Timeflies, dropped their new single "Raincoat".  Clearly, it was a day of major excitement for all of us Timeflies fans.
"Raincoat" featuring Shy Martin isn't as light-hearted or upbeat as many of Timeflies other songs.  The song tells the classic story of two exes who run into each other while they're out with their new significant others.  Obviously, a lot of painful memories resurface and hurt thoughts are subconsciously shared.
Despite the cliché theme of the song, the palpable emotion in the song makes it stand out from other songs with a similar message.  There is a clear sense of pain and longing between the two exes as they reminisce on the day they met and their time together as lovers.  The chemistry that once flowed between them has transformed into discord, but the electricity is still there, just like it was the night that they met due to a forgotten raincoat.
The forgotten raincoat turned out to be the serendipity that brought the two together, but it's not clear how or why it did. Yet, the main themes of the song still manage to shine through, which is the most important thing to Timeflies when they make music.
"You know, we write the song first," Rez said when I interviewed him and Cal at Billboard's Hot 100 Festival back in back in August of 2016.  "We come up with a great song, and then, like production wise, we sort of want to build around the vocals so that we always have the music being, you know, secondary to the message."
The way which the vocals and the music come together in "Raincoat" make it a really dope song.  The way that the beat changes highlights the stress of the situation that is expressed in the lyrics.  The music and production play into the pain that comes from love lost and regrets.
All that we need now is to see how this song and its emotion translate into a live performance.  With the Too Much to Dream Tour coming up in just a couple of months, it looks like fans will definitely get that opportunity.  While I didn't get to see Timeflies perform on their recent Party in the Basement Tour, I'll hopefully be able to check them out this time they come back to New York on October 4th at Irving Plaza.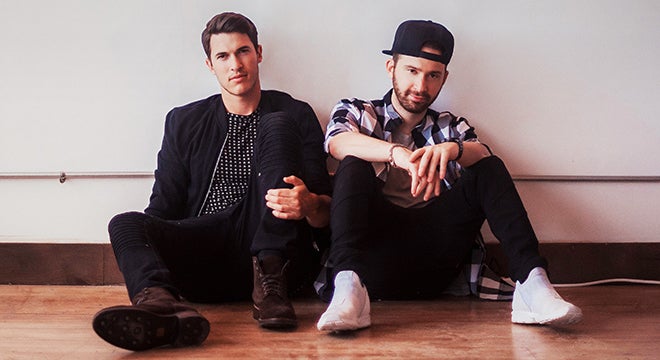 Tickets are already on sale for the Too Much to Dream Tour!  Get yours today before they sell out.  You can find a full list of dates and cities below.  Let us know which show you're going to on Twitter @Weknowthedj!
September 28 – Oxford, OH
September 29 – Atlanta, GA
September 30 – Carrboro, NC
October 1 – Charlottesville, VA
October 3 – Montclair, NJ
October 4 – New York, NY
October 6 – Philadelphia, PA
October 7 – Silver Spring, MD
October 8 – Providence, RI
October 10 – Boston, MA
October 12 – Clifton Park, NY
October 13 – Columbus, OH
October 14 – Indianapolis, IN
October 15 – Millvale, PA
October 17 – Pontiac, MI
October 18 – Grand Rapids, MI
October 20 – St. Louis, MO
October 21 – Milwaukee, WI
October 22 – Chicago, IL
October 24 – Urbana, IL
October 25 – Minneapolis, MN
October 27 – Sioux Falls, SD
October 28 – Des Moines, IA
October 29 – Iowa City, IA
October 31 – Omaha, NE
November 2 – Columbia, MO
November 3 – Lawrence, KS
November 4 – Denver, CO
November 7 – Seattle, WA
November 8 – Portland, OR
November 10 – San Francisco, CA
November 11 – Los Angeles, CA
November 12 – Santa Ana, CA
November 14 – Phoenix, AZ
November 15 – Albuquerque, NM
November 17 – Dallas, TX
November 18 – Houston, TX
-Roxy R. (@roxyrappaport)
Feature Image by Leslie Crow