Billboard Music Awards 2017 Highlights
On Sunday night, Billboard Music Awards were held in Las Vegas, Nevada.  It was a night filled with killer performances and awards mostly won by Drake.
Nicki Minaj opened the show and, as per usual, gave a performance that got everybody talking.  She started out her set, which turned out to be a medley of her recent hits, with "No Frauds", her diss track to Remy Ma that, of course, everyone had a comment about.  Lil Wayne surprised the crowd to join her on stage to rap his verse in the song while Drake's verse was left out as he watched the performance from the crowd.  Minaj transitioned from "No Frauds" to "Light My Body Up" and brought out her second special guest, David Gueta, who took the stage behind her to spin his tables.  Last but not least, and just when you thought she was done sharing the stage, she brought out Jason Derulo to perform their joint hit, "Swalla".  Minaj finished up the show opener on her own with "Regret in Your Tears" as she stood a top of a rising pedestal.
Co-host for this year's show, Vanessa Hudgens, felt inspired by the performance to treat the crowd to her Nicki Minaj impression, which honestly sounded nothing like Minaj.  Her attempt Celine Dion similarly lacked as an impression, but showed off her talent as a singer as she skillfully belted out Dion's hit song, "The Power of Love".
Nothing though could prepare us for Celine Dion's performance, which was without a doubt the highlight of the entire show.  In honor of the twentieth anniversary of Titanic, which was released in December 1997, Dion took the stage to perform the movie's theme song, "My Heart Will Go On".  In a deeply emotional performance, where she truly closely resembled an angel, Dion showed the world that she's still a vocal powerhouse as she flawlessly hit every note in the song.  When she finished, she received a much deserved standing ovation from the crowd.
The second most epic performance of the night came from Cher.  The singer, who was being honored by receiving Billboard's Esteemed Icon Award that night, performed two of her biggest career hits, "Believe" and "If I Could Turn Back Time".  You would never guess that the iconic singer celebrated her 71st birthday just 24 hours earlier due to her high energy and the way that she moved around the stage.
As far as the actual awards go, Drake was the biggest winner of the night taking home thirteen awards and making him the new record holder for most Billboard awards won in one night. Adele held the previous record with twelve awards in one night.  He took home the trophy for the following categories:
Top Artist
Top Male Artist
Top Billboard 200 Artist
Top Hot 100 Artist
Top Song Sales Artist
Top Streaming Songs Artist
Top Rap Artist
Top Rap Tour
Top Billboard 200 Artist
Top Rap Album
Top Streaming Song
Top R&B Song
Top R&B Collaboration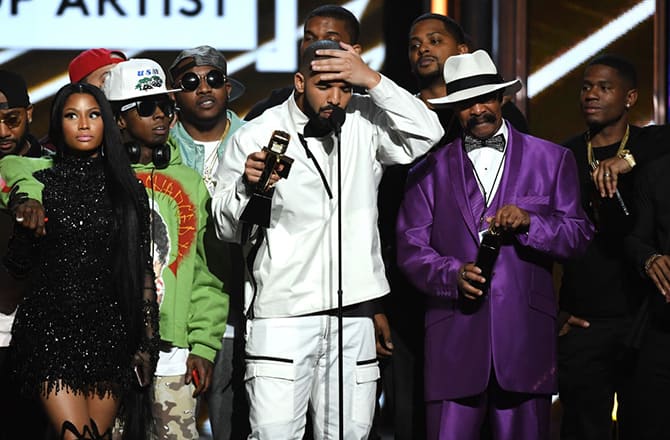 The Chainsmokers were another one of the night's big winners taking home awards for Top Hot 100 Song, Top Collaboration, Top Dance/Electronic Artist, and Top Dance/Electronic Song.
Overall, the 2017 Billboard Awards were entertaining, but the night's MVP's were two of the women who have been at it the longest in the music industry, Celine Dion and Cher.  Performers for next year's show will have big shoes to fill.  Hopefully, they'll step up to the plate and give us a bigger and better show.
You can find a full list of the 2017 winners here.
What was your favorite part of the show?  Let us know on Twitter @weknowtheDJ.
-Roxy Rappaport
Feature Image by Leslie Crow