Shaky Knees: My Kind of Festival
Let me be honest, I go to a ton of concerts. In the next three or four months, I'm planning on going to about ten shows. I have seen a ton of bands and I've traveled a pretty decent amount to see bands. I'm big in the music scene, so I know what's happening. All of this together makes it pretty hard to get really excited about a festival, especially one that I'd have to travel a bit for. All of this in mind, Shaky Knees 2017 has got me really excited.
Shaky Knees is an annual festival, started in 2013, that takes place in Atlanta, Georgia. This year, the fest is May 12-14. The festival takes place at Centennial Olympic Park in Downtown Atlanta, and was originally a two-day festival, but it has now expanded to a three-day. The festival features varying size artists, but focuses on indie rock, alternative rock, and indie folk music. Past performers have been artists and bands like: Alabama Shakes, The Gaslight Anthem, Edward Sharpe and the Magnetic Zeros, and Neutral Milk Hotel. And of course in addition to the music, there is plenty of food and plenty of great experiences going on at the festival as well, but this festival is really focused on the music. The folks who organize the festival want to expand the festival to have bigger and better acts, but still focus on the music and keep it at a smaller size compared to other major festivals. They want to make sure that it is a great experience for everyone who attends.
So, if that didn't get you excited, lets talk about the lineup. I remember seeing the lineup poster on Twitter, but I couldn't remember why. I knew one of my favorite bands was playing, but I just couldn't remember who. And then it hit me, Modern Baseball is one of the bands playing Shaky Knees. (If you know me in real life, you know that I absolutely LOVE Modern Baseball. Their album, Holy Ghost, was my top album of 2016 and I'm seeing them on my 21st birthday). But have no fear if you don't know who Modern Baseball is (but you really should!). Here are some of my other favorites: Phoenix, Pixies, X Ambassadors, Sylvan Esso, Catfish and the Bottlemen, Pup, and Pinegrove. The lineup is seriously stacked, and there are so many artists that I just couldn't mention. I also find that this is a really great mix of artists, from alt-rock classics like the Pixies to indie pop like Sylvan Esso (check out their song "Radio" – one of my absolute favorites), to pop punk/emo royalty (my favorite) like Modern Baseball and Pup. There is a little bit for everyone, honestly.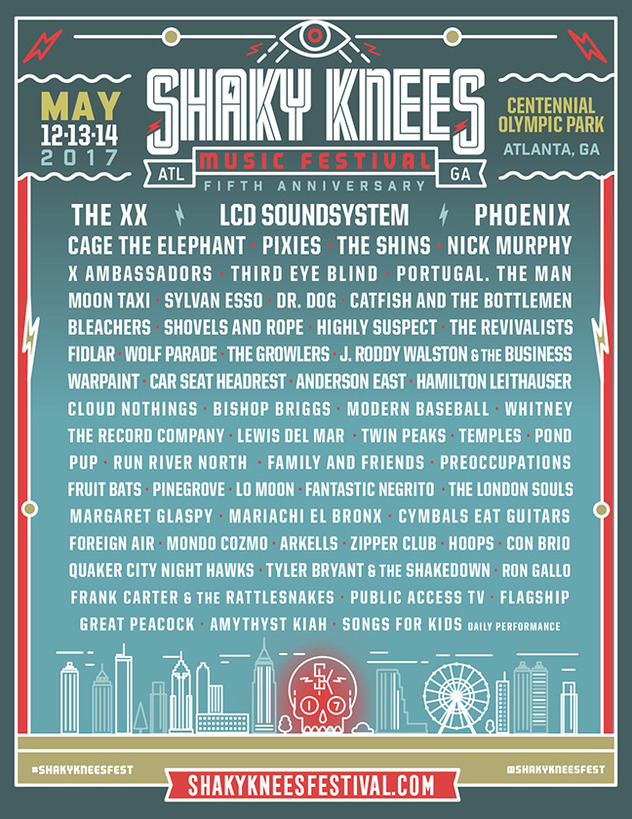 I'm super pumped about this festival, and I'm really considering going. Have any of you been before? Anyone considering going this year? Be sure to let us know on twitter @weknowtheDJ!
-Tara Howell (@taraisntpunk)
Feature Image by Leslie Crow