"Too Much At Fanshawe" – Exclusive Interview With Ryan Butler And G0LDEN G
"Sometimes there's just too much at Fanshawe"
Pay attention because Gerome Nash (AKA G0LDEN G) and Ryan Butler aren't playing around. This is their dream, their passion and it shows.
Written and presented by G0LDEN G and directed by Ryan Butler "Too Much at Fanshawe" is the sequel to "5am at Fanshawe" and features another Drake remix. Taken from Drake's 3rd major-label album "Nothing Was The Same", "Too Much" featuring Sampha is one of the most introspective and personal songs of his career to date.
Fitting then that this is also the most heart-felt of the Fanshawe series to date. Nash expresses his thoughts on his origins, life at Fanshawe College and the irritation of being underestimated.
The remix keeps Sampha's original backing vocals and adds Nash's angst-ridden, powerful rap in place of Drake's musings and it's more than convincing, it's the cornerstone of a burgeoning career.
The lyrics reflect the ambition of both Nash and Butler: "I do homework while you get blissed out". They're putting in the hours and deserve recognition and respect, not only for their creativity but also their hard work. However, lyrics such as " why's he acting so confident?" and "Ryan rocking his hoodie, someone might spot him" show it's tough when you have talent and a vision for your future, people can get jealous and try to tear you down. Butler even alluded to the strain of this very predicament in a story he shared on Twitter on 6th November (click here to read "Unknown Perspectives: My Story" by Ryan Butler).
So what does it take to create a film like this? Ryan and Gerome (respectively) were kind enough to take a moment to talk to us and explain.
How long did it take to make this film – from concept to finish?
Ryan – It took about 15 hours to complete the entire production of this second installment in the trilogy.
Was the visual aspect of this film solely your creation or did you have any outside input, or input from Gerome?
Ryan – The visuals were more of a collective between all of us involved in the project, but there were shots that were my own too.
In terms of the visual feel of this sequel, it appears darker than "5am". Please can you tell us something about the influences behind it?
Ryan – The influence behind "Too Much" was solely personal thoughts from Gerome. 5am was more of a experiment/fun video to shoot but "Too Much" had a lot more thought in it lyrically from Gerome.
You're clearly extremely motivated, but what advice would you give other young people thinking about choosing film-making as a career?
Ryan – I am very much motivated and want to succeed doing what I love. I have no plan B. I strive to make film work for me. My advice to any other young aspiring filmmakers is to just keep doing little projects to increase your experience in the field, talk to people that can help and do research on your own from the people in history that have done it best. Find your creative arc and run with it.
What did you learn from this project?
Ryan – The only thing we learned from this project is that getting the perfect lighting is hard! Also, janitors are not always co-operative!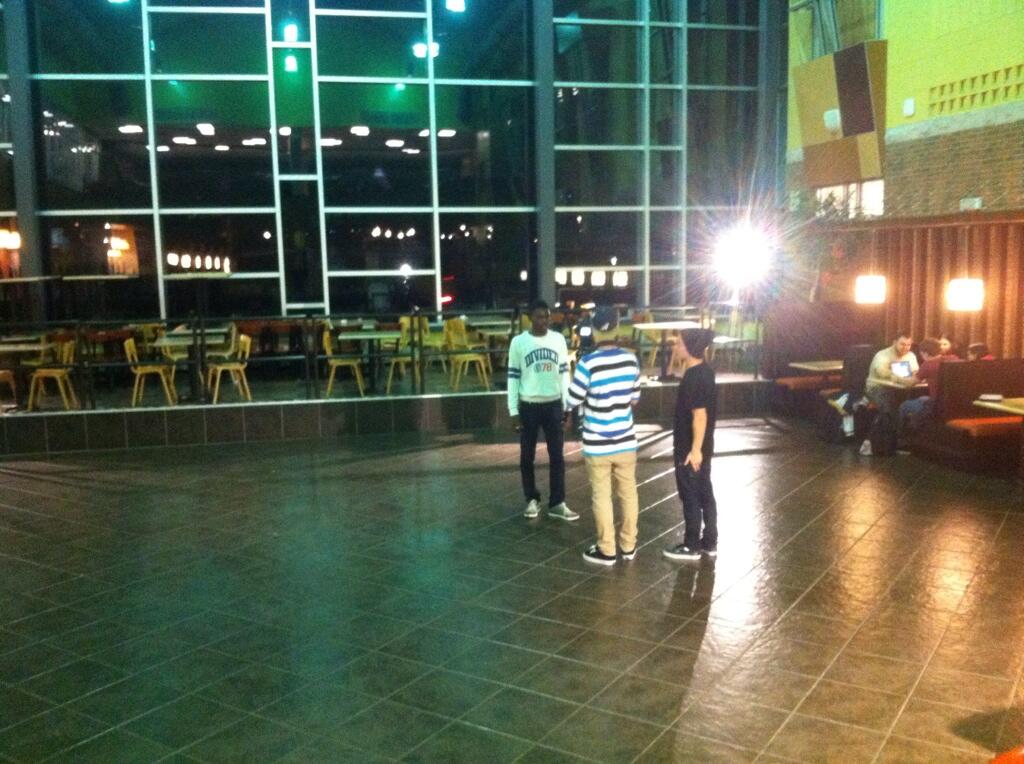 Ryan and Gerome cleared out the cafeteria at Fanshawe College for the filming of "Too Much At Fanshawe"
How do you define your rap style and which artists have been your main influences?
Gerome – My rap style is versatile. I've been influenced my too many rappers, but if I had to pick who I sounded like I would be a weird combination of Drake, Eminem, Earl Sweatshirt, Big Sean Mos Def and Jay Z. Throw those in a blender.
Your lyrics (not only on this remix but on many of your tracks) suggest you have critics who try to bring you down, despite your obvious talent. What do you say to those doubters?
Gerome – I used to have haters, but that changes when they see what you can do with rap. Then everyone gets real quiet. There is hate, jealousy, but it's quiet now. I just let them know every so often that G0LDEN is still killin' it.
What do you hope people take away from your music?
Gerome – I just want respect, and I want people to feel like they deserve respect too. I want them to see a guy who never thought he could stand up and say something amazing, who finally did and who puts just as much effort into this as the idols in rap music did to get where they are. I just want them to know, anyone can stand up and do something great with hard work and time.
What do you ultimately hope to accomplish throughout your career? What is the dream?
Gerome – My main hope is to become successful with my talent of rap, and the success of my crew I've created EGAA (Eager Genuine Aspiring Artists). I think it would be cool for me and my buddy Ry to do some professional music videos together some day that show up on your tv screen.
Watch this space, because we at WeKnowTheDJ.Com know these two will be hugely successful and they're doing it all by themselves through sheer hard work and determination.
-Lucy Jenkins
@LucyWKTDJ