Cher Lloyd Announces New Single feat T.I.-'I Wish'
Cher Lloyd  once ostracized me slightly from her music by boldly stating that she had put her home town of Malvern, England firmly on the music map. I was a little disconcerted that someone hoping to enter the music industry didn't know who Sir. Edward Elgar  was, however, never one to discriminate against an artist because of something they've said in the past, and in the interests of forgiving and forgetting, I'm all ears for her new single 'I Wish'.
Set for release on August 11th  'I Wish' (feat. T.I. – of Robin Thicke's 'Blurred Lines'  fame) will coincide with the start of her U.S. 'I Wish'  tour which starts on September in Washington and will see her perform 11 dates.  This will be the lead single from her second album which is due out later this year.  Her 2011 debut album 'Sticks + Stones'  reached number four in the UK and number 9 in the US.
Announcing the release of the single on twitter, Cher sent the 'Brats' into a state of hysteria "Is everyone excited for my new single #IWishFtT.I ??? I can't wait for you all to hear it!!!(:" .  Having gained nearly 5 million followers on Twitter, she has become one of the most popular Brit's on the site and as I said; yes, I am indeed excited because the plucky little 'Want You Back'  singer is extremely talented.  I remember watching her auditions on the X-Factor  and thinking she had something indefinably impressive.  There is no mould for Cher and she has a raw talent, of that I have no doubt.
The UK singer is now essentially free from the X-Factor grip, recently revealing that she feels "positive" about her new album, adding: "I feel like I've grown up as a person, learned a lot about myself as an artist."
At the recent Teen Choice Awards  Cher did indeed look to be heading towards a more grown-up look and looked fabulous in a two-piece with her hair in a sophisticated bob of curls in what seemed to be a nod to her former mentor – Cheryl Cole.   I'd even go as far as to say the lady is looking demure!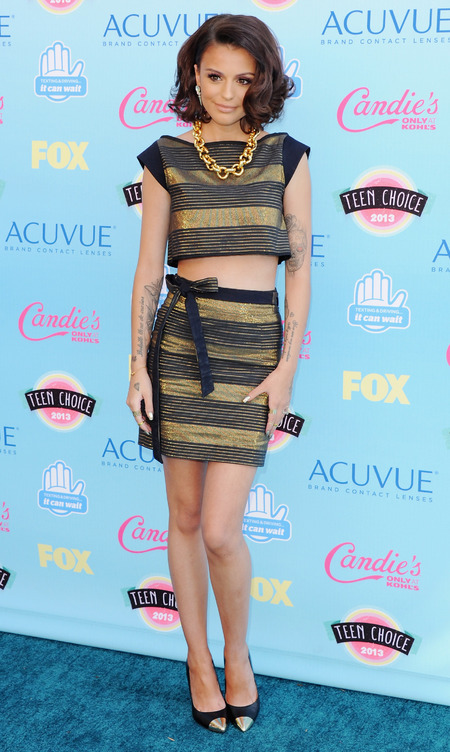 A far cry from the X-Factor days!: 
Speaking of a far-cry from her X-Factor  days, the 20-year-old has been spending her time in the U.S where her single  'Want U Back'  was released on May 22, 2012 and peaked at number 4 on the US iTunes chart and 5 on the Billboard Digital Songs. The single has sold 2,000,000 copies in the US and has been certified platinum. In the UK it has sold over 100,000 copies.  Not bad at all for the runner-up (Cher came 4th in the 2010 X-Factor  after receiving the least amount of public votes).  It has, of course, become widely accepted that being a runner-up these situations is rarely the end of the road, Cher was rewarded with a recording contract from Syco Music  shortly after the show finished and she toured with the other X-Factor  contestants throughout early 2011.  In December 2011, Lloyd signed a record deal with L.A. Reid to Epic Records  in the United States.  Everything seems to be heading in the right direction then.
This could be the make or break moment for the singer, she has a loyal following who are fans of the Cher that she was, will they follow her into the new phase?  Only time will tell.  I for one hope they do because this little lady always wanted this, regardless of what anyone thinks about her or the music. From her school days in Malvern right up until this point she has relentlessly pursued a musical career and that is to be applauded.  But she doesn't need me to say that, she has Mr. L.A. Reid backing her on this one too.
Lucy. J.
@LucyWKTDJ