In Praise Of Tom Odell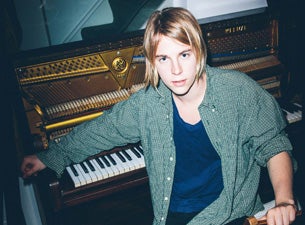 Another Love by 22 year-old English singer/songwriter Tom Odell is my current earworm. I can't get enough of it (which is good since it's everywhere – the radio, Glastonbury, on the TV and at fashion shows). In fact you'd be hard-pressed to find a person in the UK who hasn't heard it at some point, but I admit, I knew very little about it's author.
Tom grew up in Chichester and also New Zealand (his father was an airline pilot – perks of the job) and whilst in school he studied piano classically to Grade 7 and began writing from the age of 13.  The perfect start some might say to a musical career.  But it's rarely that easy, actually becoming a recognised (let alone signed) artist is incredibly difficult, and Tom knows this only too well.
At the age of 18, Tom was appearing at open-mic events nightly but it was tough: "It was full of humiliation: dragging a keyboard round, turning up to find out I'd been taken off the bill, gangs of lads grabbing the mic off me and laughing … I learnt to perform and learnt what songs work." he said.  Literally putting in the mileage, Tom would travel to London regularly using his grandmother's car to perform at every gig he could and even had a brief stint as part of the band Tom and the Tides before deciding that he was better off as a solo artist.
His hard work finally paid off when in 2012 he was spotted by UK Singer/Songwriter Lily Allen (head of In The Name Of – part of Columbia Records) who said: "his energy onstage reminded me of David Bowie".  After releasing his debut EP Songs From Another Love in October 2012, Odell appeared on Later… With Jools Holland , was named The Brit Awards Critic's Choice Award winner and his debut album Long Way Down (released on 24th June this year) reached number 1 on the UK Album Chart.
All in all, you have to say he's done alright.  But what of the critics who argue that he's basically a combination of every folk/pop artist currently doing the rounds in the UK music scene?  His songs are fresh enough (maybe not everyone's cup of tea, but that's music for you).  His voice is different and his song-writing is soulful.  Odell says his lyrics are inspired by his "inability to sustain a relationship with someone for longer than six months … I find that I write much better songs when I'm being honest, and writing about things that happen to me. It can get a little weird though, when friends or girlfriends work out that a song is about them. But it's amazing what you can get away with it. Artistic license I think they call it."
At the very least, the harshest of critics should be aware of his stage presence alone. At Glastonbury this year he was fantastic, the guy pumps the piano like he's been up on that stage for decades.  As a hardened Bieber fan I'm getting very used to seeing reviews of musicians that are rarely based upon the music, but perhaps more so on a grown man's distaste for a good-looking young whippersnapper's ability to wow his audience. Or, is it simply that these older gentlemen simply just don't understand the music?  Who knows.  But I always say let the people who buy the music do the talking and it's difficult to argue with a number one album.
Lucy. J.
@LucyWKTDJ